Written by Mike Park, Broker
If you're looking to get a new kitchen, there are a few ways to go about it. I'll cover a brief overview of low, mid, and high- grade levels of kitchens, and then I'll go into more detail on the mid-grade. With a top-grade kitchen, it's highly customizable and requires a professional designer to get all the measurements correct. It also requires tight integration between a high end contractor and the designer, to make sure everything you want to do is possible given the current structure of your home and to make sure everything is implemented according to design. For pricing on the typical high end kitchen, let's say you have an L-shaped counter top running 10′ by 15′ with cabinets all around and an island that's about 4′ by 8′. This level of kitchen professionally designed, built by a high-end contractor, and supervised by the designer will run between $80,000 and $120,000.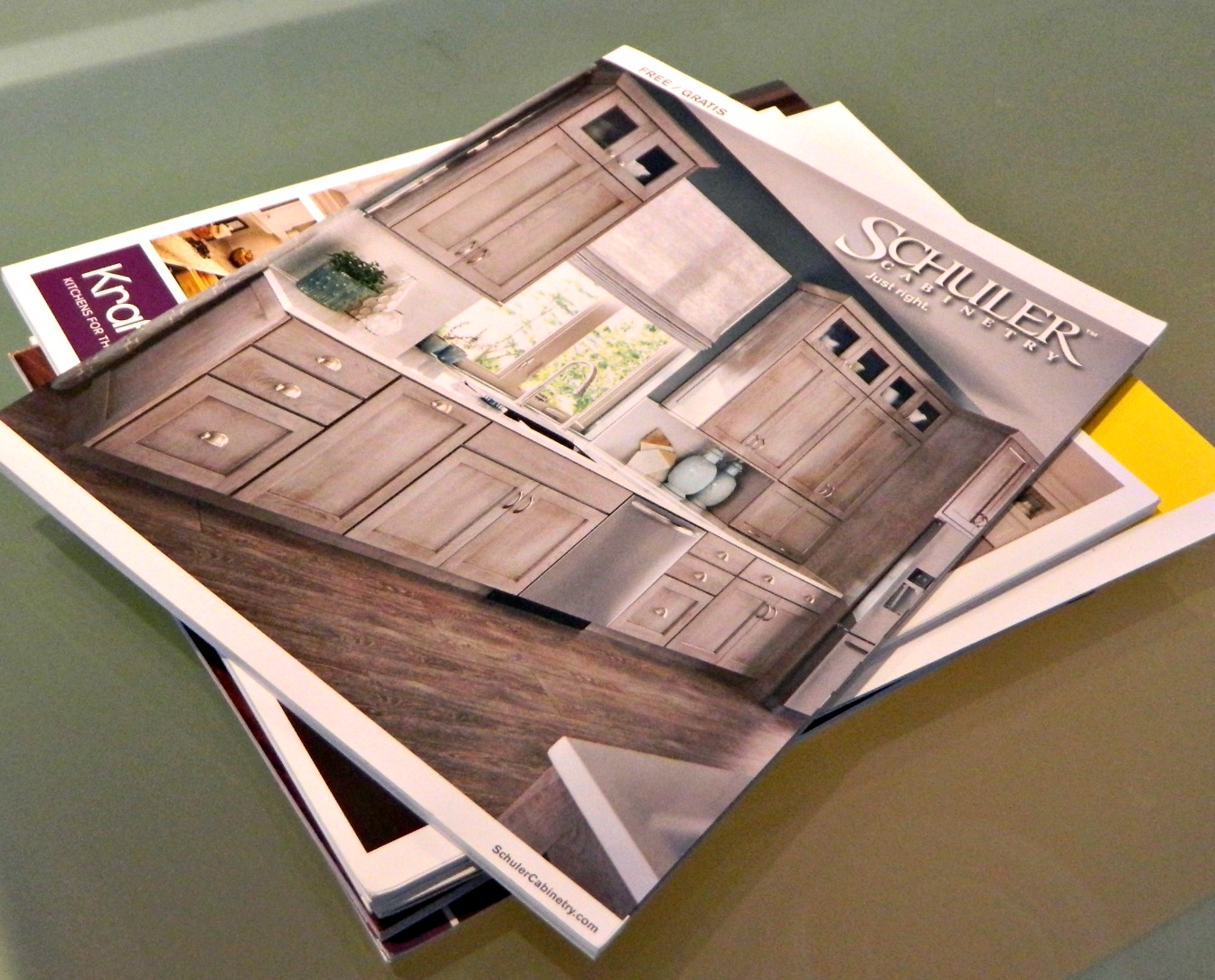 The middle grade kitchen is usually put in by a fairly high volume general contractor that may or may not interweave multiple projects together. The budget tends to be more moderate, around $40,000 to $60,000, and utilizes stock cabinet sizes and standard appliances. The cabinets will generally be of decent quality, and can be purchased through Home Depot, Lowes, or if you want to go a little bit higher end, through various kitchen cabinet companies in the area. The most affordable kitchen option would be something like an Ikea kitchen. Materials for a standard sized 10 ft square L-shaped Ikea kitchen will run for $4,000 or $5,000 plus appliances. The installation will run another $10,000. So we're talking about a total budget of $20,000 when all is said and done.
Here I'll go into more depth on the mid-grade kitchen. In this kitchen, the biggest cost saver is that the cabinetry is not customized. It is customized to a certain extent, n that you need to pick out what types of cabinets and drawers you want in different places, but the sizes of all the cabinets and drawers are predetermined due to fixed templates. If you have a slightly irregular gap or angle, the gaps are generally filled with trim filler pieces. Where the high end customized kitchen, might have cabinet dimensions exactly to fit any type of irregular space. It's a little bit like the difference between a highly tailored and fitted suit and a moderately tailored suit. A moderately tailored suit is still presentable, but certain consumers will be willing to pay a lot extra in order to not have any type of filler. The construction of a mid-grade kitchen is also a little different versus the high end and the low end. Generally, it may include gutting of exterior walls since the plumbing needs to generally be redone anyway, and the walls insulated. But it won't include special types of radiant heating or extra sinks and islands and such. Generally, the contractor will gut the kitchen and install the cabinetry and appliances, but the homeowner is ordering the cabinets using a high volume kitchen design service such as that offered at Home Depot.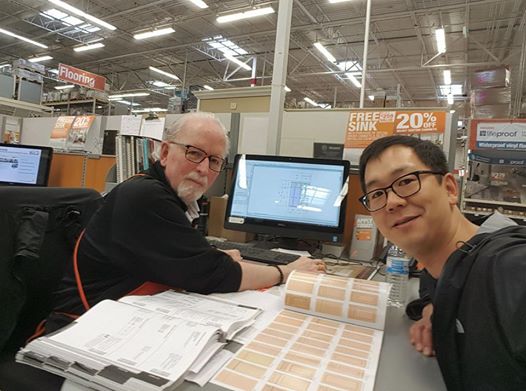 I recently did a kitchen reorganization–by reorganization I mean that I didn't replace my original cabinetry, but I extended the kitchen and added some cabinetry. For this project, I went with a mid-grade kitchen level contractor, Leo Rabello, of Leo Rabello Contracting, and I went to Home Depot with kitchen designer Skip Sullivan who works out of the Somerville branch of Home Depot. I had a section of cabinetry I needed customizing around a slightly irregular refrigerator. First I called Home Depot and told them I wanted an appointment with Skip, and they set me up for the next day at noon. Then I took some measurements and went to Home Depot and sat down in the kitchen design section which is in the middle of the store. Skip took down the dimensions and put them into the computer where he had a custom kitchen design software that integrated directly with the various kitchen cabinet vendors that they use at Home Depot. First we sketched out all the dimensions and the rough area of the cabinetry, and then spent about half an hour discussing all kind of drawers and pull out cabinets I wanted. We saved the finishes and colors for last, and all in all the process took about an hour and a half.
It helped that I had discussed with my wife what kind of utility we wanted in these cabinets. We wanted a drawer at a low level to hold all the kid cups in place and utensils, we also wanted as many slide out narrow pantry drawers as we could fit in order to hold and make easily viewable the things such as cups, bottles, soup cans, and other food items that are best organized in a narrow visible fashion. We were tired of digging deep into the recesses of dark shelves and deep drawers to find things. Generally, anything beyond the first 6 inches of a shelf or drawer ended up spoiling for us and we'd end up throwing it away when we do our quadrennial spring cleaning these days!
The options of cabinets in Home Depot are pretty broad. Skip, who also works as a real estate agent at Lembu Real Estate, highly recommended I go with Craftmade cabinetry, since they're the best quality combined with the price. They had a great sale going on, 20% off, so I splurged on getting full plywood. See below for more info on the plywood.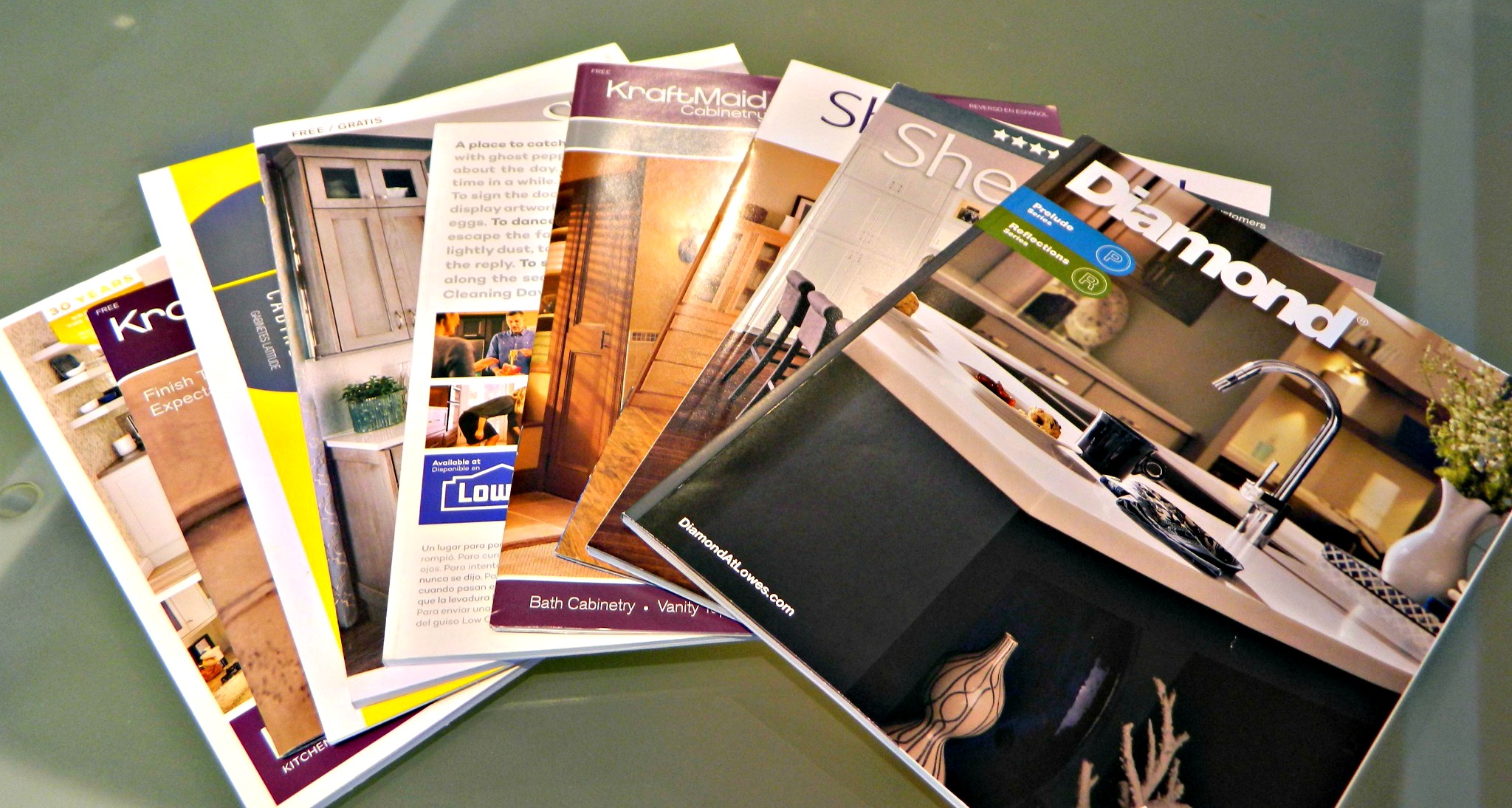 For any particular cabinet style and color, there are different ranges of wood that you can choose. They go from pure particle board, to particle board shelves with plywood cabinet sides, to plywood shelf and cabinet. I went with the full plywood which added about 20% to the overall cost of the cabinetry. I like plywood because it doesn't bubble up as much under water damage, and there's a lot less glue used in building the plywood from compared to the particle board which is basically wood shavings or shredded wood particles with a lot of glue holding everything together. The VOC burn off can take years with the particle board, which I did not want to deal with.
After choosing style, wood quality, and color, I was all set. Delivery was set for one month later, at which time Leo and his carpenters will come by to install all the cabinetry.
All in all a pretty smooth process!